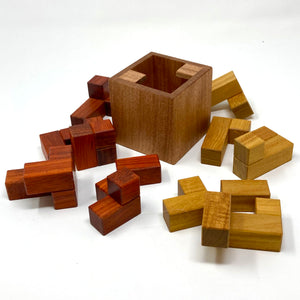 Two puzzles for the price of one!
From the amazing mind of my friend Laszlo Molnar comes these two gems. Packing puzzles with rotations are not one of my strong suits but I love these! The same box but two different sets of pieces. Each set is similar in that each piece builds on the the previous one by adding a single unit cube. But the pieces are very different beyond the first few. Two distinct and rather difficult challenges in one. Ships unassembled.
The yellow pieces will be either Yellowheart or Fustic. They are very similar in color.
Size: 2.5" x 2.5" x 2.5"
Designer: Laszlo Molnar