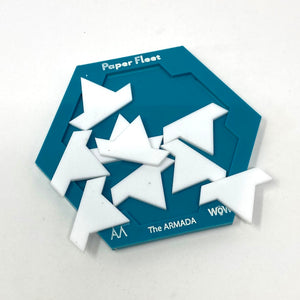 Set sail in the beautiful blue waters of the Caribbean with your paper sailboats! Two puzzle in one here. Can you get the 9 boats into the tray on the Armada side or is the Flotilla side with only 7 pieces more your speed. 

Size: 3.75" x 4.375" x .25" ( 9.5cm x 11.1cm x .6cm)
Two Challenges - Pack the 9 pieces into the larger tray or only 7 pieces into the smaller tray. 
Designer: Alexander Magyarics