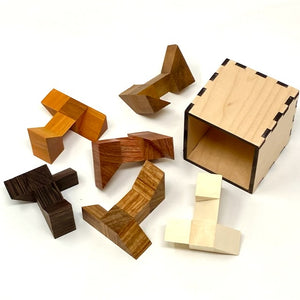 This is my first time making one of George's designs. I must admit these pieces were time consuming to make. Pack the T-shaped pieces (all different) in the box. Getting three pieces in the box is easy, but at four, things become difficult. This puzzle hides a curious twist. You may begin to doubt it but all six pieces can be packed in the box. Are you up to it?

This puzzle was inspired by Ken Irvine's 6T puzzle.
In order to keep costs down the box was laser cut from Maple plywood. The pieces are various hardwoods and exotics. A checklist showing your woods is included in the box. I will be adding more of these to the site shortly.
Ships unassembled

Size: Approx. 2.25" x 2.25" x 2.25" ( 5.7cm x 5.7cm x 5.7cm)
Designer: George Bell