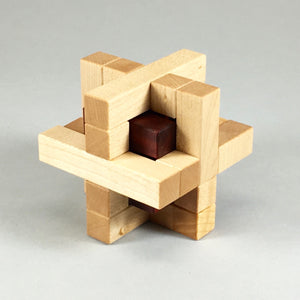 The third design from Andrew Crowell this month is the StarTIC. With only five pieces to fit into the frame, you would think this is quite easy! Not really. Quite a bit of movement, along with a few rotations make this a fun puzzle. Andrew's ability to work rotations into even the smallest of spaces really set his designs apart. This puzzle ships assembled, add a note for an unassembled version. 
Designer: Andrew Crowell
Size: 2.5"x2.5"x2.5"
Moves: 17 total with rotations