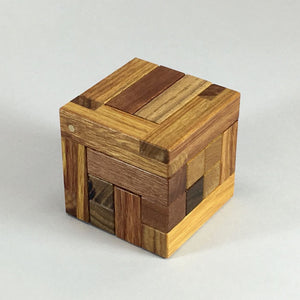 PackTIC #7 is another of Andrews Packing TICs. Yes, I know I skipped #6 but that is coming in the next update along with #8. Besides, this one may keep you busy until then! 
What drew me to this design was the number of pieces. With only 5 pieces to assemble I though this might be an easier puzzle to solve. It's still pretty tough, at least for me! Ships unassembled. Moves - 20 total with 7 rotations.
This puzzle is made with a snug fit and very small bevels to avoid unintended rotations. Not suited for high humidity locations.
Size:  2.25" x 2.25" x 2.25" ( 5.7cm x 5.7cm x 5.7cm)
Designer: Andrew Crowell