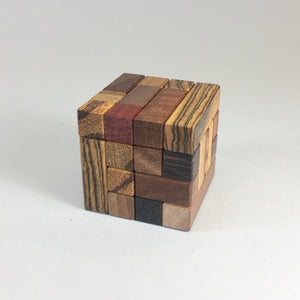 This is a great design from the talented designer Andrew Crowell. Andrew's TICs have created quite a stir in the puzzle community and designs like PackTIC are the reason for the buzz around his creations. This 7 piece rotational cube is shipped unassembled (message me for an assembled version) and will certainly give you fits. This version is made from a variety of exotic and domestic hardwoods. The pieces consist of many wood varieties in order to take away any hint at where the pieces may go. 
Designer: Andrew Crowell
Size: 2.25"x2.25"x2.25"
Moves: 16 total with 3 rotations