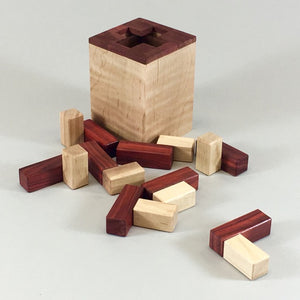 The master of clever packing puzzles is at it again. Getting pieces into the box is always a challenge when it comes from Laszlo! This design comes with a nice additional challenge. The pieces can also be arranged into a 2x2x5 replica of the box's top. All the pieces are made from 2 unit and 3 unit length pieces. This version is made from Maple and Redheart.
Designer: Laszlo Molnar
Size: 2.25" x  2.25" x 3.25"
Moves: 1.1.2.2.3.2.2.4.2