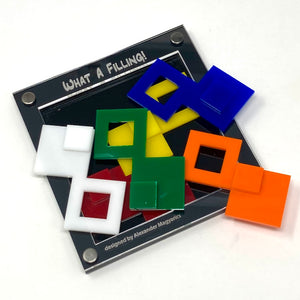 This on is probably the most difficult of the tray packing puzzle on offer this month. Very clever overlapping of pieces that nest into each other is the key here. Fitting the six pieces within the tray only 2 layers high was impossible for me. These were more challenging to make as well since there were several glue ups involved. Individual pieces colors may vary.

Size: 3.75" x 3.75" x .25" ( 11.4cm x 11.4cm x .6cm)
Pack the 6 pieces into the tray only 2 layers high. 
Designer: Alexander Magyarics